Mobile app development services cover end-to-end development of mobile apps, from BA and UI/UX design to deployment or online market publication. Over the past decade, eFOX has successfully delivered over 100 mobile apps, including, Android, iOS and Window Phone.
We always catch up to the latest trends in the mobile development world and welcome mobile projects that involve the mobile technologies
Our expertise covers a wide range of enterprise applications for core business aspects from sales and customer service to manufacturing and inventory, human resources, finance and marketing management:
Enterprise Resource Planning (ERP).
Supply chain management applications.
Asset management applications.
Procurement management.
Customer (self-service) portals.
Industry specific solutions (electronic health record (EHR), manufacturing execution systems (MES)).
Order processing.
Billing applications.
Financial management.
Email marketing applications.
Business Intelligence (BI), and more.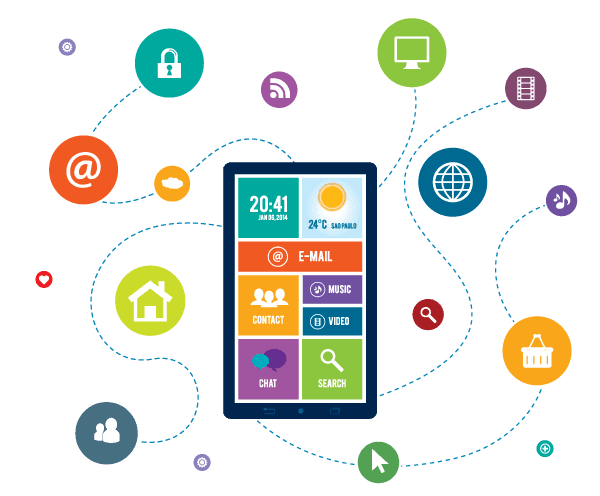 Native (iOS, Android, Windows) and cross-platform (on Cordova, Xamarin, React Native) mobile applications are to provide businesses with high speed and convenience they need.
eFOX can either compliment your web application with mobile experience or deliver it as a separate mobile solution with its own back end (.NET, Java, PHP, Node.js).
The eye-catching UI / UX design determines the first impression of a mobile app user. Understanding about that, our designers, in addition to constant updating new icons and fonts, are constantly creative to create designs that are both aesthetically pleasing, unique and friendly to end-users.
Leverage the power of large data sets with high-performing and robust custom big data tools.
Our big data solutions empower manufacturing, banking, healthcare, media & entertainment, logistics, sports industries and the government sector with clear insights on critical elements of their business and let them explore patterns and trends for more informed actions, better process control and optimization, predictive equipment maintenance, ad/service/content targeting, and more.
eFOX provides solutions that can analyze:
Transactional data.
Sensor data.
Clickstream data.
Social media content.
Research data.
OS-specific (Windows, Mac, Linux) or cross-platform custom applications to work offline with total control over data security.
Real-Time Applications
A wide range of real-time tools for immediate identification of potential business opportunities and risks.
eFOX's team develops such solutions as sensor data monitoring (equipment condition monitoring, environmental monitoring, automatic vehicle tracking), advertisement and recommendation engines, fraud and spam detection, highly-responsive applications with millions of users and more.