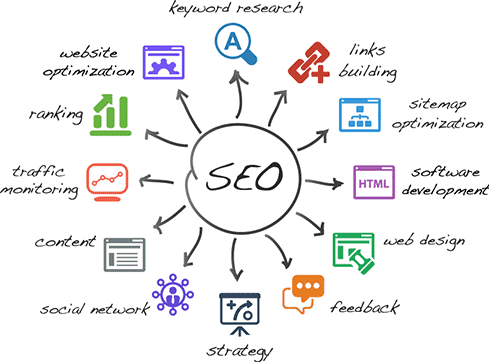 SEO stands for search engine optimization, which your website will be displayed by the time a user searches a keyword on google, bing, yahoo… SEO service helps increasing traffic to a website from search keywords so among all forms of online marketing, Search plays an indispensable role and creates the highest ROI.
Why's SEO So Highly Effective?
Different from Facebook ads or Banner… SEO is understood as an active marketing channel, in other words when the user types a keyword to search for it, they have already been in demand for products and services.
As a result, the conversion rate(CVR) of the organic search channel are very high compared to other inactive advertising channels (Users may see the banner but it is not so sure whether they are looking for that product or service, consequently CTR is lower).
Keyword Planning – SEO Service
In the World, the percentage of people using Google to search for keywords account for more than 90%, so keywords and search volume data of Google is always the most accurate.
In SEO, keyword planning plays a crucial role to the success or failure of the campaign.
If the chosen keywords are too difficult, it will cost a lot of time and money to implement SEO, or in case the chosen keywords are searched by no one, it is impossible to create any business efficiency.
Therefore, it is necessary to rely on Google keywords planning tool to select the most accurate and effective main keywords and relevant keywords. At the same time, depends on the timing and the website state, we would advise you to choose the right keywords.
Market Analytics And Competitor
Based on the keyword analysis result eFOX Solution will come up with very detailed report on the the current competitors.
Which are divided into two types, a direct competitor and business rival:
Direct competitor: When you search a keyword, Google will display 10 results. In order for your page to appear on the first page, you have to compete with 10 sites listed on Google's 1st page. In SEO that is your direct competitor.
Business rival: This is your actual rival in the market. For example, in the motorcycle industry, Yamaha and Honda compete with Suzuki, but regarding site and SEO, Honda is not sure to be as strong as Yamaha or Suzuki.
The market and competitor analysis is one of the strong points of eFOX customers will get a very thorough and detailed analysis.
Which is very valuable. not only for SEO campaigns but also for the PR and banner ones.
Analytics Website Onsite Optimization
Well structured website is compulsory for good SEO. Well structured website is comprised of many technical code elements, web content…
One of the most important factors that is manageable is the content. In order to convince users to purchase goods and use services, the introduction of products and services has be comprehensive and persuasive.
eFOX owns onsite code error testing tools and the result is reported daily to customers.In addition to support customers most effectively, we provide the web management and content writing package which aims at aiding the smooth operation and good quality of your website.