Every time when I share SEO services, I always get questions by many people, "What factors are the key factors in the way of SEO top Google?"
This is really a difficult question, because the truth is that depending on the location, market, current brand, your topic is trying to rank top google as well as how to seo top google like?
Some people will say that's OnPage, some people say content is king, there are some people like me – who will tell me that's backlinks are the most important factor when seo keywords on top google. But that's just my opinion, because I'm basically a strong link building builder.
But as I said, each will give you a different answer and so I can give you an overview of the factors that Google appreciates. I need a large data set to be able to give conclusions.
Luckily, when I was doing research on google I found some case studies on analyzing over 1 million websites on google to give you an overview of what Google is looking for on your website.
What is SEO Google
SEO google is search engine optimization which includes a set of methods to improve the ranking of a website on the top pages of Google search engine results.
Here I will summarize the research findings and results, as well as giving instructions on how to be top Google SEO quickly in detail in the below article
You can reference article What is SEO? and know why SEO is important for your website.
10 results are researched from millions of websites ranked in the top 1 by Google SEO
The website that ranks first in Google's natural search results list has an average click through rate (CTR) of 31.7%.
Results in the top 1 position are 10 times more likely to receive clicks than results in the 10th position.
The CTR for positions 7-10 is almost the same. Therefore, even if you move up one rank within that range, the traffic will not change much.
In theory, for every increase in a search result, the website will increase 30.8% CTR.
However, this totally depends on where the rank you are increasing in. Specifically, changing from the third position to the second will usually increase the CTR significantly. But changing from the tenth position to the ninth will not have a statistically significant difference.
The title tag that contains the question has a 14.1% higher CTR than pages without the question in the title.
Title tags between 15 and 40 characters have the highest CTR. According to our data, pages with title tags between 15 and 40 characters have a 8.6% higher CTR than pages outside that range.
URLs containing keywords have a 45% higher click through rate than URLs without keywords.
Adding emphasized words to your title tags can reduce click through rates.
I find that headlines with strong words have a 13.9% lower click through rate than headlines that don't contain them.
Emotive titles can improve your CTR.
I find that titles that evoke a certain emotion, positive or negative, have the potential to improve CTR by about 7%.
Pages with meta descriptions get 5.8% more clicks than pages without tags.
These 10 research results will be easier for you to continue learning about how to lead SEO gets on top Google that I will present now below.
Detailed instructions on how effective SEO keywords to top 1 Google
What is keyword Seo
Keyword SEO is a trick that involves many stages with the ultimate goal of getting keywords to the top of the search engines. This is an important factor for any search engine.
There are many things need to mention in each of the results mentioned above, so I'll go into detail and explain each one in detail. Before going into the problem, I will briefly describe how I collect and analyze the data:
There are about 100,000 randomly selected keywords for research, each with at least 100 monthly searches.
From these keywords, the top 10 websites on page 1 are retrieved and analyzed so there are about 1,000,000 URLs analyzed. At each Url, I analyze each HTML of the domain, backlinks and SERP snippet of each website.
The more backlinks = higher rankings
I am a big fan of backlinks, from how to get social media backlinks to rank top google map, automate backlinks, infinite backlinks from google and then PBN (and there are many other things that I will share with you in the near future).
As the data (article) shows, one of the key factors affecting rankings on google is the backlinks strategy and this I totally agree based on my experience when doing keyword SEO.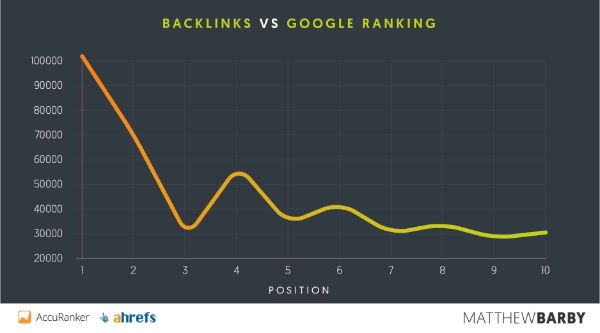 The graph shows you that a website with more and more links pointing to it tends to top google. (Well, I'm saying here that you have to go at least good backlinks. Not many bad links and then don't see the top again and say my article just….LOL).
One of the things I've heard in Google SEO is "keep writing good SEO articles and you'll naturally top up". But as you can see, good writing is not enough!
In a nutshell: If you don't have backlinks, it's hard for you to rank top.
Remember, "On average, the first 2 positions of Google will take for 38% of the total backlinks on the first page of Google"
Getting backlinks from different domains is important in Google SEO
We all know that backlinks to content are important, but we don't know the difference between getting backlinks from the same domain and getting backlinks from different domains.
The below chart shows you the importance of diversifying in your backlinks source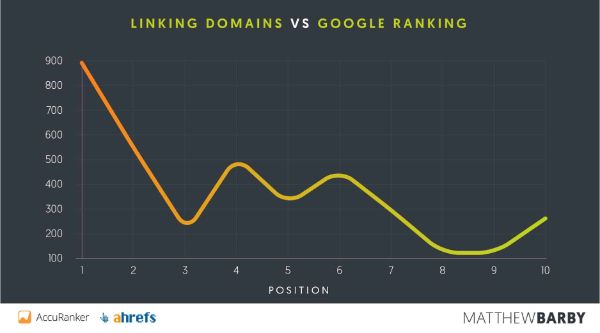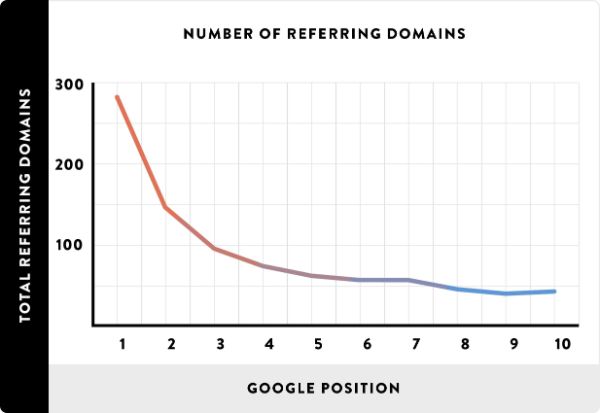 And in fact, the website with the first position usually has links from different domains 168% higher than the top 5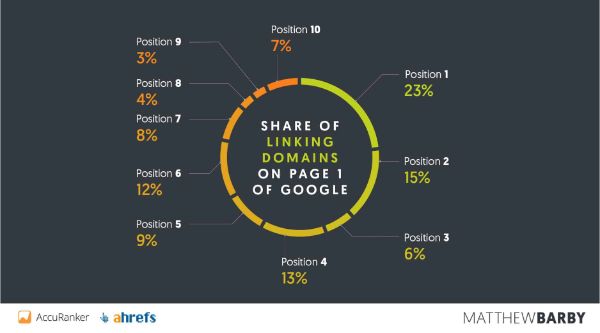 This is even more noticeable when you look at the top 1 pages of Google with about 23% of the domain links out of 100% of the domain links of 10 websites on page 1 Google
Many backlinks to the website are good things when SEO on top Google. But many backlinks coming from many different domains really help you greatly improve search results.
So that you can see the perfect ratio of this (For those who often go to forums and blog comments) and apply it right after reading the article, I also carefully analyze the ratio of backlinks to the domains of the data collected by me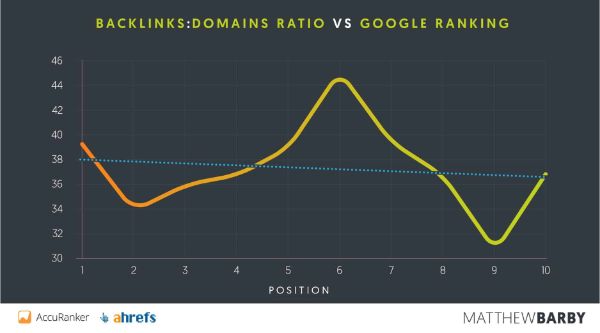 As you can see, HTTPS tends to rank higher than other pages. Perhaps because Google is increasingly important to protect browser / user information. They will show users "warnings" when users visit HTTPS websites – you can see the caution below, and this is no good at all.
Long content and focused on a main topic often ranks higher than short articles
Are long content posts more effective than posts with 200 words?
And Here are the results of my research
I found that pages with longer content often rank higher than short article pages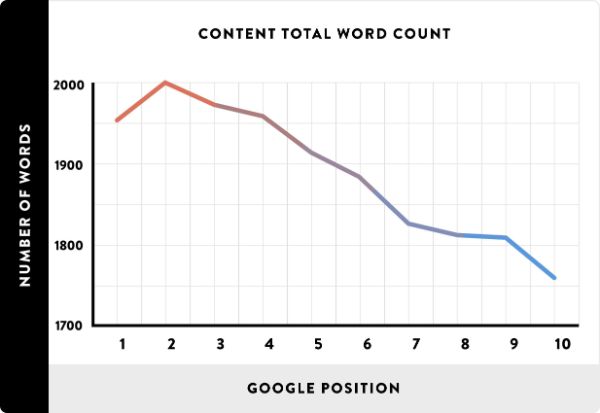 And the truth is, after summing up the data, I found that the average number of words in the top results was 1,890 words.
Perhaps due to the fact that longer content is more likely to be shared (One study shows that content over 3000 words tends to be shared the most).
Another theory is that long content posts are likely to make Google understand your site more closely. In addition, long articles also show that the author of the article is very interested in posting quality articles for users.
SEO Google: Short URLs and titles are extremely effective
The article title and url are just two small parts that users will see when searching on google, but it greatly affects the CTR rate (Click through rate) of the website.
Although CTR is not mentioned by Google in influencing search rankings, there have been studies proving that CTR affects rankings and it is becoming more and more important when google rankbrain was launched in 2016. .
Below is a chart showing the importance of title and short url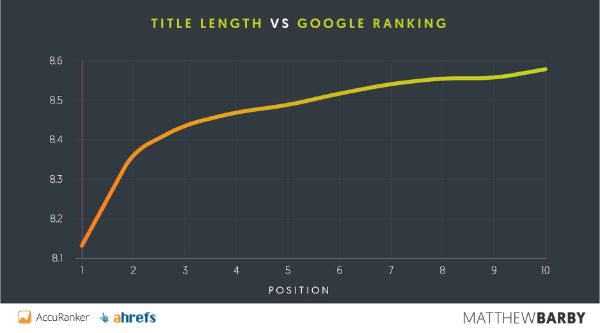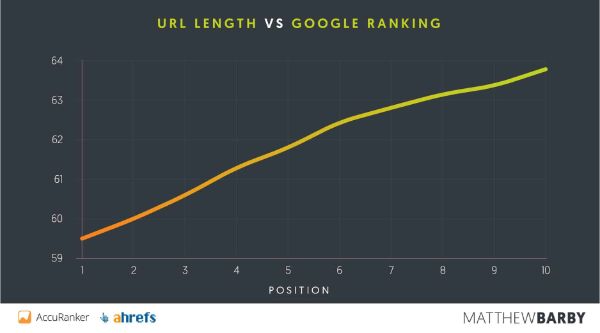 The diagram above shows, title and short url affect rankings on google. This makes sense when:
Long titles may be truncated when appearing on google. This means that part of the sentence has been truncated, making it less attractive for users to click.
The short tiles will hit the right center and quickly make it easier for the reader to understand and find the results they want.
Long urls look very spam when appearing on SERPs.
If the url is too long, it will lose part of the benefit when the keyword highlighted (the keyword the user searches) will be cut off, which will attract the attention of the user is reduced.
What do you have to do? Filter out urls that are too verbose and look like spam and shorten its meaning if possible.
In addition to the standard Title and URL, there are still 20 Onpage SEO factors to help your website On-top Google!
Maybe You're interested in
There are about 100% of Google seo websites in positions 1, 2 or 3 using https
Perhaps most of you already know that HTTPS has been published by google as one of the signals to help increase your rankings on google but they have not published how it will affect how. From my analytics, there is a connection between HTTPS and higher rank in google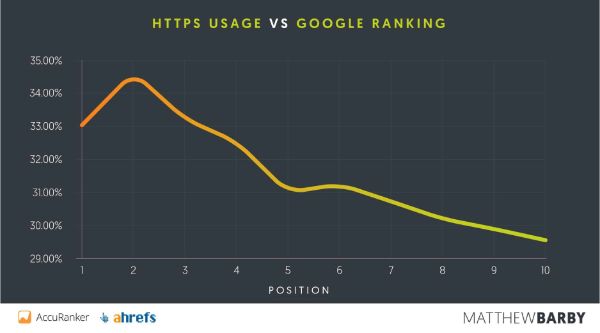 As you can see, HTTPS tends to rank higher than pages that don't. Perhaps because google is increasingly important to protecting browser / user information. They will show users "warnings" when users visit HTTPS websites – you can see down below, and this is no good at all.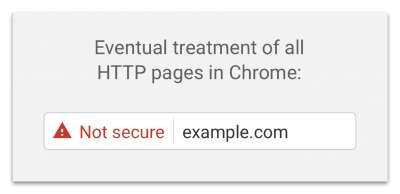 So keep in mind that at least 33% of the websites that rank in the top 1,2 and 3 of Google are using HTTPS. I think this will become more and more important so far in the future
What should you do?
If your site hasn't used HTTPS yet, you should start "moving" it over to https. Otherwise,If you do not know how to tackle it, you ought to learn more about this or have somebody else takes care of this problem.
There is no connection between having schema and getting high ranking in Google
There are many "Gypsy rumors" that when you own the schema in the website, you will be able to rank higher in Google. Oh yes, even I used to know how to make this on top Google SEO effective.
"Gypsy" often said that: "Schema helps Google understand your site better, the more it understands the site / article, the more encouraged your website gets for people to see more"
For example, you can use the schema to let people see your website rating as shown below.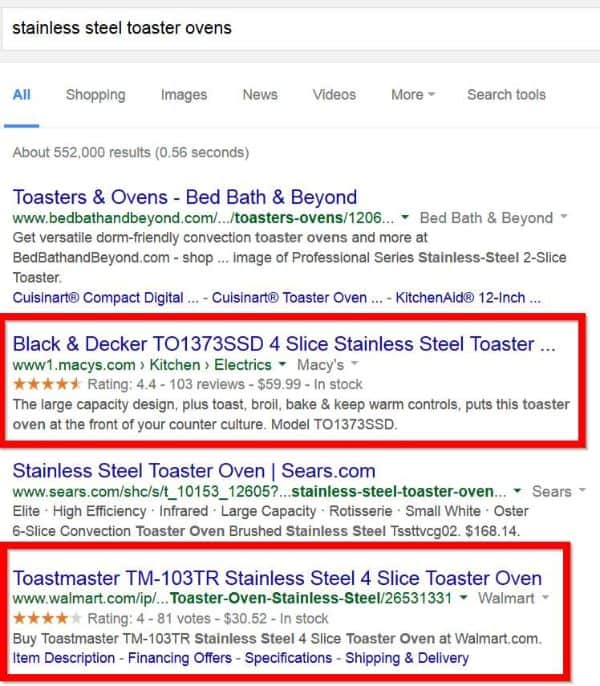 The above information will help you rank better keywords. And even John Mueller – a manager at Google points out that they may give schema a partial ranking signal in the future.
However, the data collected from a million pages shows a completely opposite result that there is no relationship between schema and higher rankings in Google despite these rumors. So it can be said that this way of SEO top Google really does not work.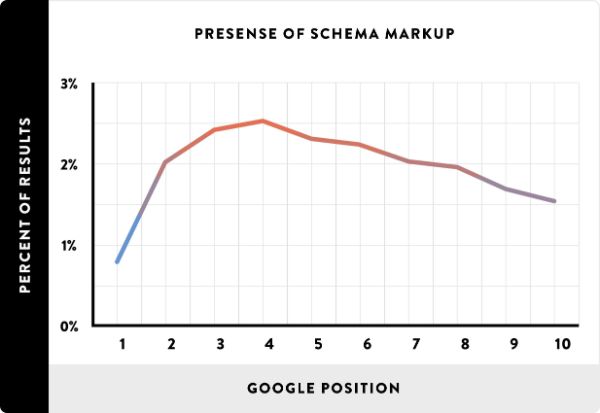 What you will do?
You can add schema to your website but don't expect it will immediately be ranked higher.
The presence of keyword in title and url is essential
Just like the title / short url has an effect on Google ranking, I also tested to see if there are keywords in the title and how the url will affect and the results are not too surprising for everyone.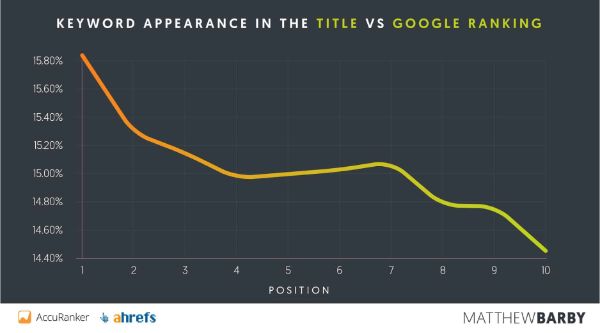 What should you do?
Please review your important content and make sure that its title contains the keywords you want to SEO on Google. For the new content that you will post, make sure this is also included. Well, avoid changing the url in your top websites, because it will be a big deal if you do not know what you are doing.
Outbound links help you improve your search rankings
This is not a part of the article I synthesized on the internet, but this is a study that was conducted to find out if outbound links have a positive effect on Google's top ranking and the answer will make you surprised . It is YES!
Here is an experiment of a group, they have SEO words "phylandocic" and "Ancludixis", a meaningless word and DON'T have any results appear on Google.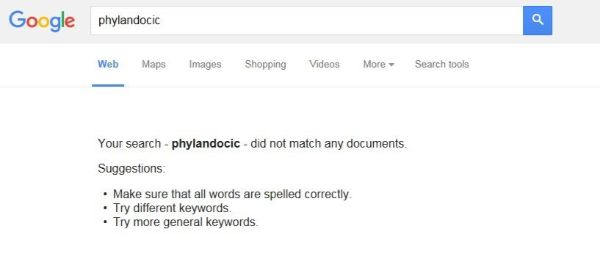 Then they created 10 websites, hosted on the same host, the website was purchased on the same day and many other similar things to avoid causing incorrect results from research, those 10 websites were
aveoningon.co.uk- No Outgoing Links
bistuluded.co.uk- Outgoing Links
chotoilame.co.uk- No Outgoing Links
dyeatimide.co.uk- Outgoing Links
edikatstic.co.uk- No Outgoing Links
foppostler.co.uk- Outgoing Links
gamorcesed.co.uk- No Outgoing Links
heabasumel.co.uk- Outgoing Links
iramebleta.co.uk- No Outgoing Links
jundbaramn.co.uk- Outgoing Links
Next, they leave it for a while and start tracking the results, below is the result they get back on test and it will surprise you.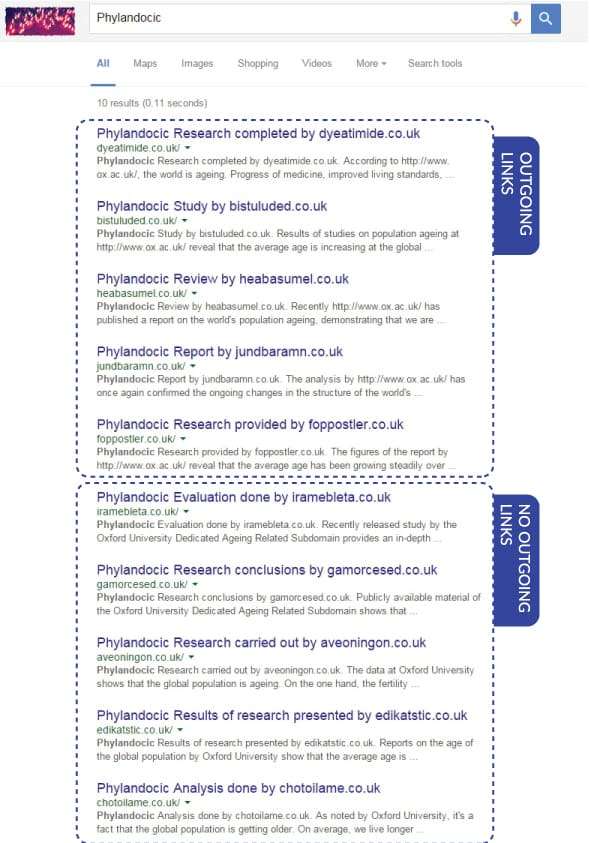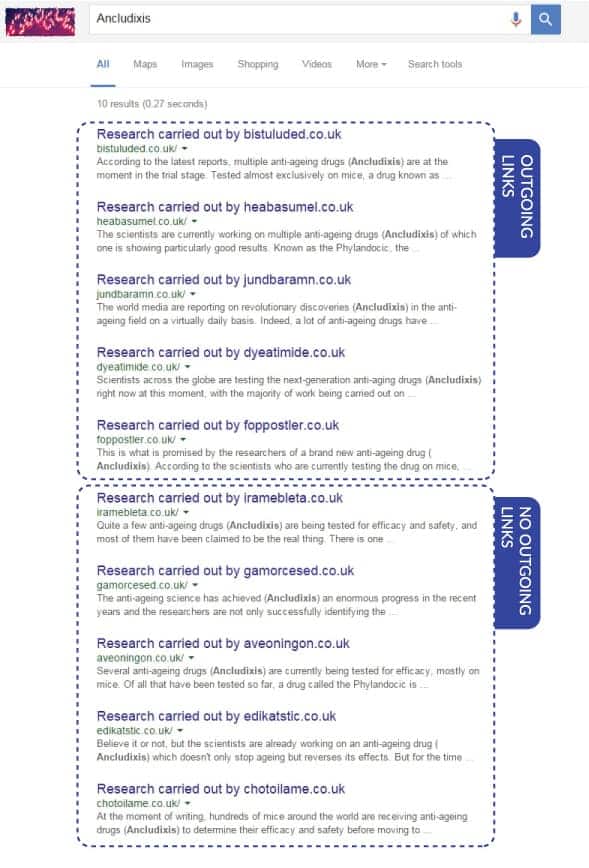 Google has said that outbound links are not a ranking signal. But it helps readers gain more information and helps google better understand what your site is about.
This means that outbound links are not direct news, but the way this SEO top Google indirectly helps improve results on Google.
You can read more about how they tested and the results here.
What should you do?
Although there is no conclusion about how many outbound links will affect rankings, one thing you surely know is it has a positive POSITION.
So, go back to the content you want SEO as well as next articles, please link to the website of the same field (of course not competitors) and it will be better if it is dofollow links.
6 tips to find keywords climb easily
I know, seo keyword to the top Google is not easy.
Not to mention the SEO practice process. Just each stage of finding keywords that is so attractive, engaging readers , potential customers as well as suitable context have been a big problem.
How to simplify the keyword in search step is a question that many people have a headache to think.
In this section, I will show you 6 very interesting and extremely easy tips to find the most effective keyword! Join me to find out what those 6 secrets are!
1. Find keywords based on questions through AnswerThePublic.com and Question DB
AnswerThePublic.com and Question DB are considered the two most perfect choices in keyword selection for articles or blog posts on the website.
Not only are the 2 free tools, AnswerThePublic.com and Question DB also help seoer find the ideal keyword set. Build many content articles that appeal to readers.
Firstly, with AnswerThePublic.com, you will know what questions customers can ask around the topic you are talking about in your article.
Next to Question DB, the form of operation is similar to AnswerThePublic.com; However, the questionnaire in Question DB is assessed to be more unique.
Another plus for these two tools is that the keyword questions you get are long tail keywords. Something that not all competitors on the first page of Google.
2. Use Amazon to find out ecommerce keywords
The keyword research process in e-commerce business is similar to when researching keywords for blog posts. The difference is with e-commerce SEO, you need to find out keywords for product pages, catalog pages, and more.
Therefore, we need a useful tool to help to find the most appropriate keyword phrases for each product. One of them is Amazon, with no different suggestion from Google.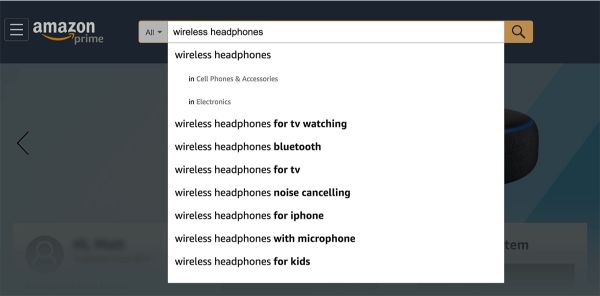 As you can see in the picture, just enter the name of a product or product category into the Amazon search bar, and immediately a long list of results will appear for you to choose.
3. Find keywords for which competitors have been ranked
In fact, entering a series of random keywords into the search bar can confuse you and the effectiveness will only show up for a short time. Instead of relying on regular keyword tools, I came up with another way of looking through a set of keywords that my opponent had been ranked for.
Not only does this create an interesting keyword list, but it is also important that the process is EXTREMELY QUICK.
As you can see in the example below, I just need to enter the competitor's domain name in the search field, and within a few seconds, I will receive a list of thousands of keywords already.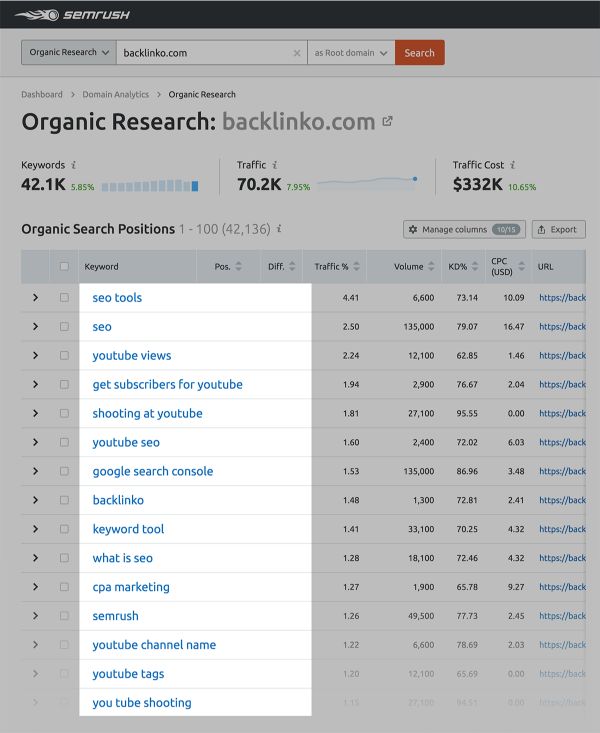 Besides, there are a number of tools to help you find the technical principles of the best keywords of your competitors, such as: Ahrefs, SEMrush, Moz Pro, etc. The tools listed above are all tools that require a fee.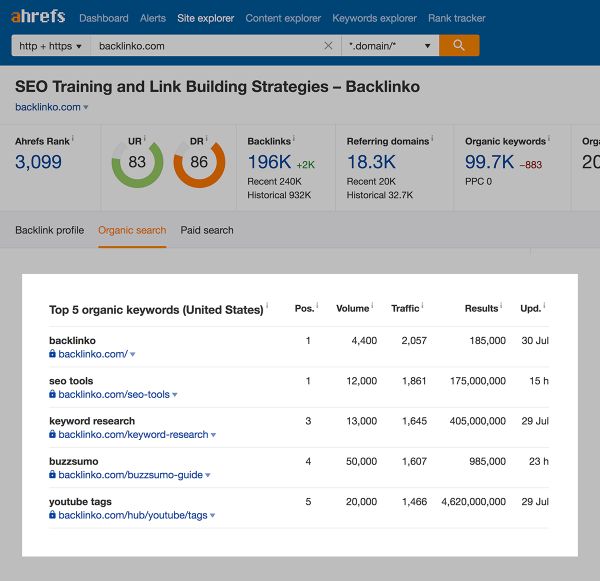 However, one thing you need to keep in mind is that only use the way to find technical principles according to your ability! That is, if your website domain name does not have much authority then choose a website with similar circumstances. Only so, you can easily find keywords with high ranking potential.
4. Find search volume and CPC data using Google's keyword tool
When it comes to finding Search Volume or CPC estimates, Google Keyword Planner is considered a super useful tool because the keyword data this tool provides comes from the most reliable data source: Google.
However, Keyword Planner still has two issues that need to be addressed:
You need to set up a Google account before using this tool
Only when your account has been running ads will you receive monthly search volume statistics.
Rest assured, these 2 issues will be solved quickly.
First, you need to have a Google Ads account to use Keyword Planner. But that doesn't mean you need to run any ads. As long as your account is fully set up, feel free to use the tool.
Next, if the tool gives you a list of search volume, as shown below: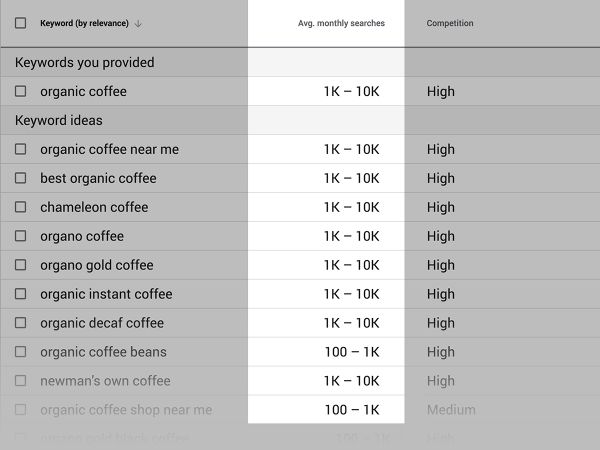 You can still add another keyword to the "Add to plan" section.

Very soon, the Plan Overview section will display the exact number of impressions you will receive immediately.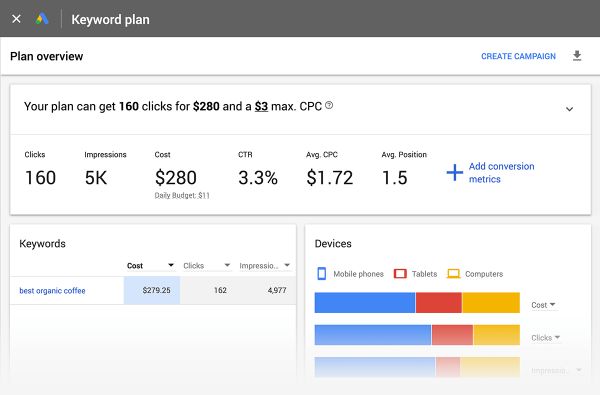 5. Discover popular keywords with Google Trends
The volume monthly search is extremely important because it clearly reflects the impact of the keyword on the user. Keywords on top google that no one wants to search will become useless.
However, the volume of the search volume does not tell you how the keyword is trending. In the long run, you will see, the keyword trend is more important than its search volume.
To find keyword trends from time to time, you can use the Google Trends tool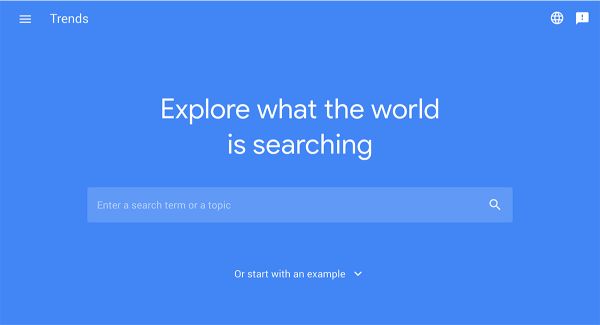 However, the results of the monthly search volume that tool shows you only a summary of the popularity of a keyword. Not telling you whether the keyword is popular or need to be limited use.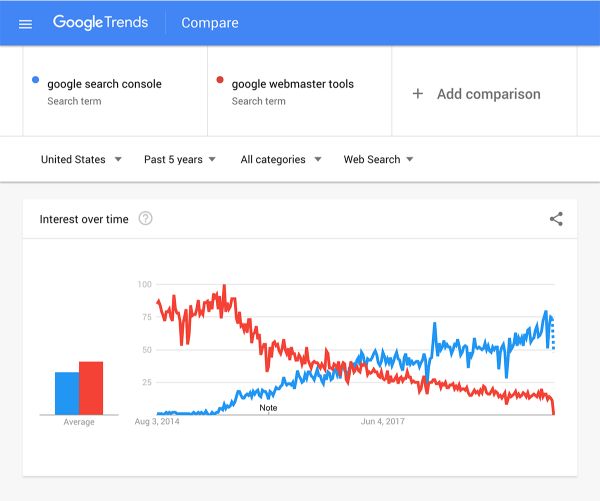 Based on that popularity, you still know what to do, how to select keywords to achieve the expected effect, right?
6. Find topics and keywords through BuzzSumo
Technically, BuzzSumo is not a keyword research tool. But, if you know how to use it, BuzzSumo is really a great tool for finding keywords.
First, you enter the name of any website into a search on BuzzSumo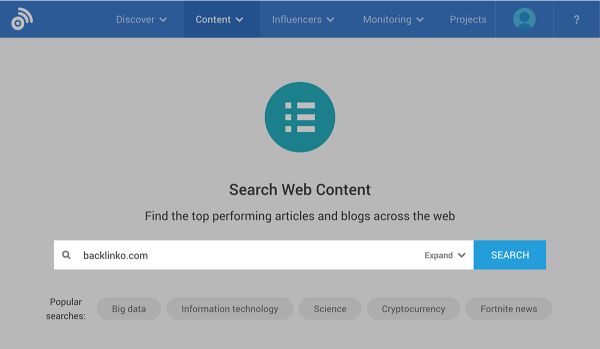 You will then get a list of the best articles on that website, as shown below: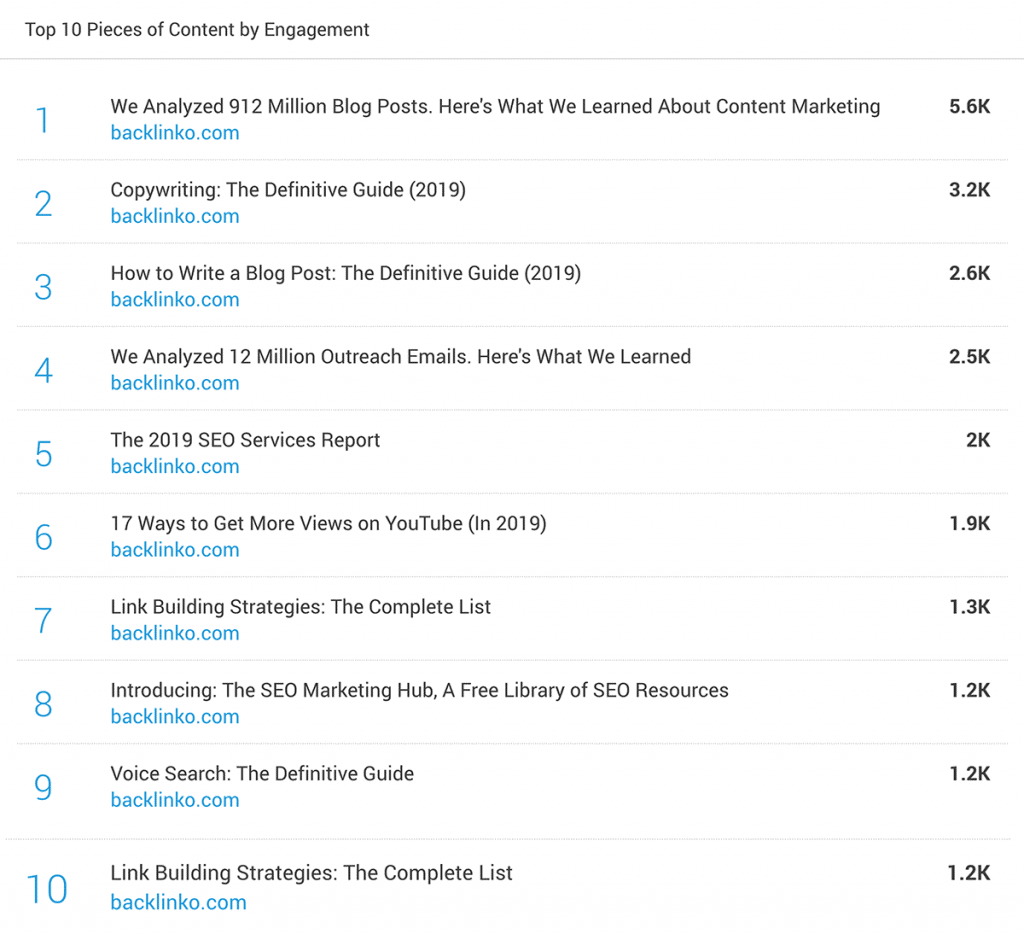 Although this list mainly shows the topic of the article, but through that you can also find out the SEO keywords as well as choosing the appropriate way to top Google SEO for your posts.
Conclude
The results from the research work above will help you prioritize the tasks in your website seo campaign. Use the results from the experiments / research to strengthen SEO mindset and create an effective way to top the Google web for your project.
Do not forget to share the above knowledge for your SEO team to read and update the current SEO situation.
Finally, thanks for taking your value time to read this article. I hope that it's useful for you and you will share it on facebook for other SEOers to read if possible.
Sources of article information
https://backlinko.com/search-engine-ranking
https://www.matthewbarby.com/ranking-in-google/
https://www.rebootonline.com/blog/long-term-outgoing-link-experiment/
Copyright by eFOX (Please include source when copying the article)